Major League Soccer Awards Expansion Team to San Diego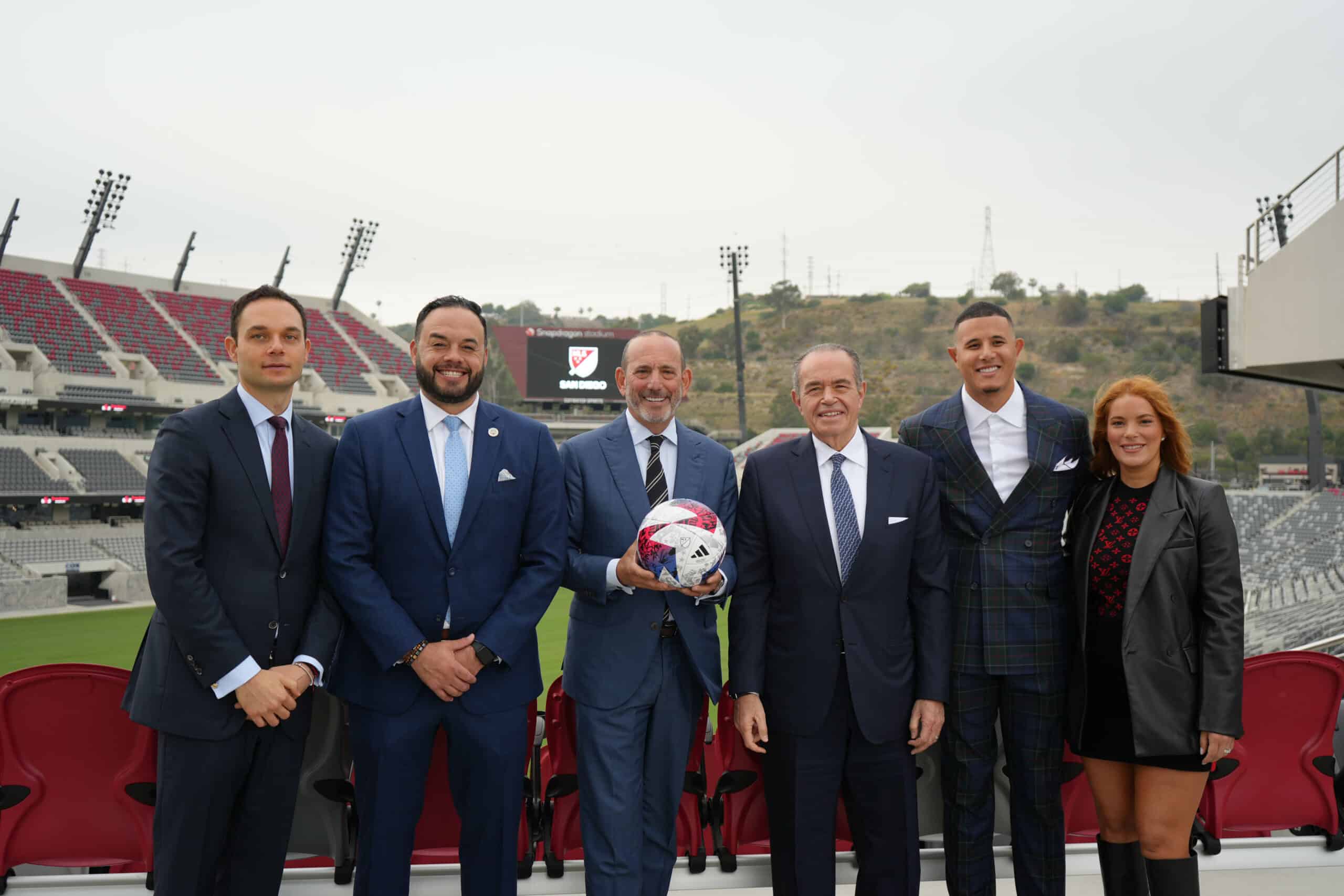 Pictured (from left) at the launch of the MLS club: Loutfy Mansour, Chairman Cody Martinez of the Sycuan tribe, MLS Commissioner Don Garber, Mohamed Mansour, investor group member Manny Machado of the San Diego Padres, and Manny's wife, Yainee Alonso. Credit: San Diego MLS / Rick Romero
SAN DIEGO, CA (May 18, 2023) – Major League Soccer Commissioner Don Garber officially announced today that MLS has awarded its 30th team to the city of San Diego, California. The new expansion club will begin play in MLS in 2025 at Snapdragon Stadium — the 35,000-seat venue that has already proven to be a destination for the passionate soccer fans of the region.
San Diego's MLS club will be owned by Mohamed Mansour, a distinguished entrepreneur, investor and philanthropist with deep, global ties in the sport, and by the Sycuan Band of the Kumeyaay Nation. The Sycuan Tribe becomes the first Native American tribe to have an ownership stake in professional soccer in the United States. Also joining the investor group is six-time Major League Baseball All-Star and current member of the San Diego Padres, Manny Machado. Other founding partners include Brad Termini, Co- founder, Zephyr Partners, Tom Vernon, Founder, Right to Dream and Dan Dickinson, Board Member, Right to Dream. Highly respected sports executive Tom Penn will serve as the club's CEO.
"We are thrilled to welcome San Diego to Major League Soccer as our 30th team," said Commissioner Garber. "For many years we have believed San Diego would be a terrific MLS market due to its youthful energy, great diversity, and the fact that soccer is an essential part of everyday life for so many people. Mohamed Mansour and the Sycuan Tribe have an incredible vision for building a club that will inspire and unite soccer fans throughout the city and region."
Mansour is the founder and chairman of the London-based investment management firm Man Capital, which owns Right to Dream (RTD), the global soccer community of world-class academies, clubs and partners with an innovative approach to identifying and nurturing talent. RTD has developed numerous world-class players who have gone on to play at the highest level for club and country in MLS, the UEFA Champions League and FIFA World Cup, including seven graduates who represented their countries in the 2022 World Cup. RTD also operates an elite performance and development environment at top tier Danish club FC Nordsjaelland that is studied and admired globally.
"We couldn't be more excited to partner with the Sycuan Tribe to bring Major League Soccer to such a deserving community and legion of San Diego soccer fans. This is a real opportunity to create a powerful and lasting legacy for the city and region," said Mr. Mansour. "We look forward to introducing Right to Dream's unique developmental approach and unparalleled soccer expertise to San Diego and MLS by delivering tangible benefits to the community as we look to open doors and identify and nurture talent from across the county and beyond."
As an essential partner with Mansour and RTD, the Sycuan Tribe brings distinctive community connection and understanding to the area's MLS expansion club, with the tribe residing in and around San Diego for more than 12,000 years. One of 12 Kumeyaay tribes in San Diego County, Sycuan has been a long-term partner with countless major institutions in the community, including the San Diego Padres, San Diego Symphony, Children's Hospital, and hundreds of local non-profits. San Diego's new MLS club further demonstrates their commitment to the region.
"What a proud moment this is for the city and the Sycuan Tribe to bring MLS to San Diego," said Sycuan Tribal Chairman Cody Martinez. "Sycuan has deep roots to the San Diego community and found an incredible partner in Mohamed Mansour and the soccer expertise that he brings with Right to Dream. Sycuan continues to demonstrate its strong commitment to the San Diego region and our MLS team will provide us with a great opportunity to bring together many different segments of the community through their passion for the game."
A fan favorite in San Diego, Machado joined the Padres as part of a then record-breaking contract in 2019. Throughout his career, he and his wife Yainee have placed an emphasis on engaging with and helping underserved kids in their community.
"I am grateful for the opportunity to join the San Diego MLS ownership group. I continue to plant roots in this amazing community that means so much to me and build upon my connection with the incredible fans," said Machado. "I'm further encouraged by the club's commitment and experience that it brings, through Right to Dream, in developing young athletes personally, academically and athletically, and excited to support the growth of soccer in San Diego."
The club will play at Snapdragon Stadium, which has already proven to be a popular soccer venue since opening in 2022. Last September, San Diego Wave FC set a single-game attendance record in the National Women's Soccer League with a sold-out crowd of more than 32,000 at Snapdragon Stadium. The stadium, which is located on the campus of San Diego State University and features a natural grass playing surface, hosted a LIGA MX friendly match in March between Club Tijuana and Club América. Major international soccer events coming to the venue this year include Mexico vs. Cameroon on June 10 and the semifinal match in the 2023 Concacaf Gold Cup on July 12.
"San Diego is a community with a rich sporting history and long considered the heart of soccer development in North America," said Tom Penn. "With the addition of MLS, we will inspire lasting change through the sport in San Diego and unite soccer fans throughout the region. We will deliver sustained excellence on the field, unprecedented investment in player development and create a shared, joyous experience for fans at Snapdragon Stadium, one of the premier soccer venues in professional soccer."
Highly regarded for its educational institutions, diverse communities, surging biomed and biotech industries, and with a reputation as one of the country's best places to live and work, the passionate soccer market of San Diego is an important addition to MLS. For the San Diego region, the club's arrival is expected to result in hundreds of millions of dollars in secondary and tertiary economic impact through vendors, contractors and club-related projects. With the announcement of San Diego, 19 clubs have now joined MLS since 2005, fulfilling a vision for strategic expansion that has transformed the landscape of professional soccer across North America.
The team's name and crest will be announced in the buildup to beginning play in 2025. Soccer fans can reserve their place on the list for season tickets to San Diego's inaugural MLS season by donating $18 at SanDiegoFC.com. All proceeds will go to the San Diego Foundation to fund non-profits investing in the development of youth soccer across San Diego County. For the latest news and club updates, follow @SanDiegoMLS2025 on social media across all platforms and use the hashtags #SanDiegoMLS and #LetsKickItSD