Al Mansour Automotive Presents The All-New Captiva; An Outstanding Car with No Competitors!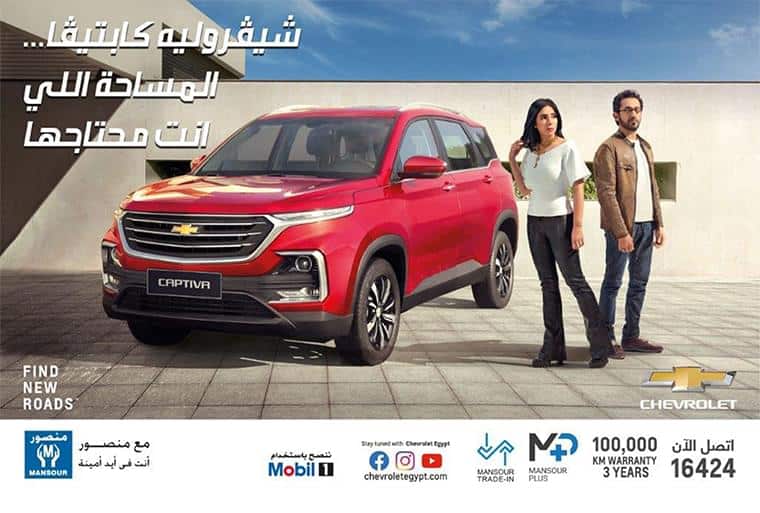 Market study is a complicated issue that only those with expertise and a high level of efficiency would be capable to achieve. This was exactly what was accomplished by the teams of General Motors and Al Mansour Automotive. The objective was to choose a new car to be launched during the coming days in the Egyptian market to create a historical leap turning everything upside down. This is simply because it is the only car in its segment that provides the best performance, with the finest features according to the highest levels of quality all over the world. Additionally, it is the most spacious car in its segment. All these traits enabled the All-New Chevrolet Captiva to be the most outstanding car with no competitors.
This amazing car combines all requirements of prospective clients that search for a large sports car with a bold design and equipment that was never integrated in one car in is segment before. Captiva can accommodate up to 7 passengers and featured with prices that suit Egyptian consumers.
In a nutshell, each and every detail of this car was created to maximize the comfort, joy, and luxury of its owner so that he pays all attention to the road while driving. We would be addressing, in details, all the aspects and features of this marvelous car.
Yes, you would need several specifications in your car. However, you also require a powerful engine with strong suspension systems, in addition to assistance, navigation, and control systems that show you all what you need to know in terms of different kinds of data. Of, course, Captiva is also featured with the most updated safety technologies all over the world. Let's explore every part of the car in details.
Captiva a new concept of driving 
Turbo engine 1450 CC, a  Double Overhead Camshaft, 148 horsepower at 5200, Torque: 255 Nm at 1600-3600  rpm, automatic  CVT transmission, Fuel tank capacity 52 liters, 17-inch alloy wheels, front and rear parking sensors, Tire Pressure Monitoring System (TPMS), rear view camera, Cruise control, Hill start Assist, Anti-theft system, Independent suspension system, brakes' systems (ABS, ESC, EBD)
Captiva; the best interior equipment in its category
Specious cabin with all sorts of features, a large salon that would accommodate 7 passengers, automatic air-condition, 7-inch multi-function dashboard, sound system with 6 speakers, entertainment supports devices via Bluetooth/USB connectivity, opening the window using remote control, electric closure of the doors and the trunk, chrome-plated door handles, USB from the rear view mirror, leather seats, 6 ways electric driver seat, 4 ways manual front passenger seat, foldable rear seats, adjustable steering wheel, Keyless entry , a button to start/stop the engine, cup holder.
Captiva; exterior equipment beyond description 
Electric sunroof, adjustable front Halogen headlamps and LED daytime running lights, LED rear lights, LED brakes' lights, Front fog lights with steering assist and rear fog lights, door handles chrome strip electrically  adjustable mirrors with LED lights, electric foldable mirrors, heated mirrors, rear wiper with washer. 
Captiva; industrial accuracy and high level services
General Motors implements strict specifications for every single phase of production. This is the secret behind its industrial accuracy that preserves strong continuous performance for several years. Since Al Mansour is the only distributor in Egypt for all Chevrolet models, this guarantees the highest levels of after sales services with the largest and most efficient services' centers all over Egypt.
The most  successful car dealer in Egypt
Trust is the basis for any type of investments. Therefore, a famous name like Al Mansour Automotive representing the Chevrolet brand in Egypt for more than 40 years is enough to provide confidence for anyone who choose Chevrolet Captiva. It's not only about expertise, but also about continuous work and development through the establishment and modernization of services' centers all over Egypt. This is in addition to the presence of a distinctive team of technicians, engineers, and administration. Al Mansour Automotive is always keen to provide the teams with trainings constantly inside and outside Egypt and to approve more and more services' centers. This is to reassure Chevrolet Captiva owners that they are in safe hands exploring all new horizons.